The Silver Lime Property is located just 10 km west of the Blue Property (now contiguous) and was originally acquired by Core Assets as a secondary project. Through rigorous desktop geological study by Core Assets' technical team, it has been deemed that the same exploration model revolving around fluid mobilization of the Llewellyn Fault Zone also applies to the west.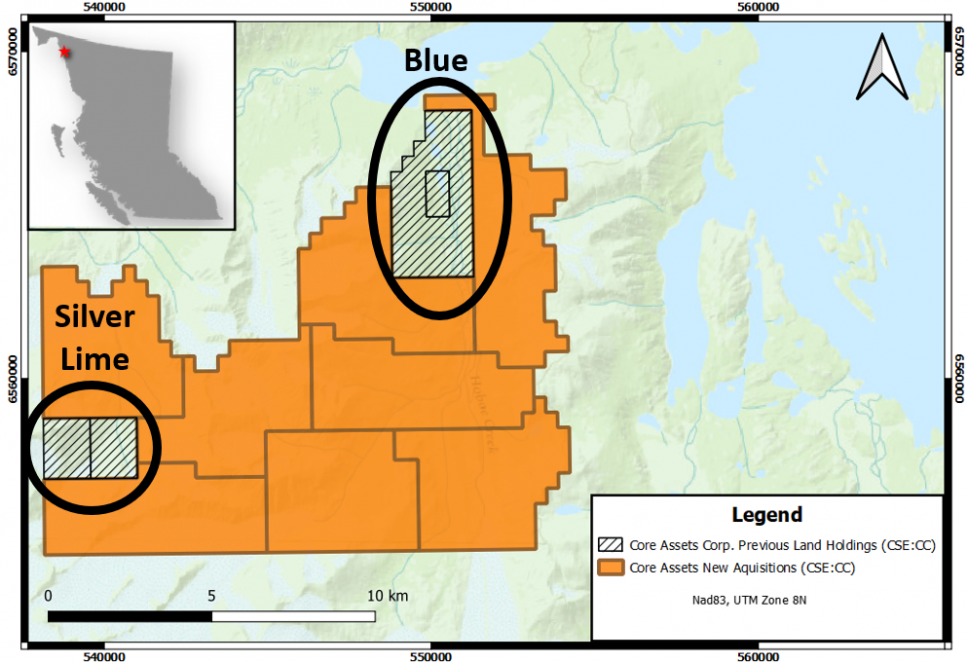 Historically, the Silver Lime Property consisted of two significant mineral occurrences known as the Falcon and Jackie showings. The Falcon showing was discovered by Carmac Resources in 1990 and consists of two northwest trending quartz veins. Mineralization comprises galena, sphalerite, pyrite, chalcopyrite, arsenopyrite and stibnite. The vein system is exposed for 25 meters and the strike extensions are covered by talus. Individual veins are up to 1.2 meters wide.
To the northwest, a quartz-feldspar porphyry breccia contains smaller quartz veins with semi-massive arsenopyrite and stibnite. A 2.20 meter wide sample* of the vein system assayed 3.3 g/t gold, 2,641 g/t silver, 0.15% copper, 2.5% lead and 3.32% zinc, 5.0% arsenic and 2.56% antimony (Assessment Report 21162).
In 2018, Zimtu Capital Corp., as part of a helicopter reconnaissance program, prospected the property taking 8 samples. The results confirmed the program that Carmac carried out in 1990, returning values reaching 1.16 g/t gold, 913 g/t silver, 12.45% zinc and 20.0% lead.
The Silver Lime Property potentially fits a carbonate replacement deposit model (CRD). Massive sulphide pods occur in limestone and biotite-muscovite-sericite schists generally near the contacts between the units. Large zones of limonite alteration, cut by alaskite and hornblende porphyry dikes, usually surround the pods.
The lenses appear to be widest near the dikes. Several faults follow the general direction of the dikes, suggesting structural control on the mineralization. Sulphides comprise galena, sphalerite chalcopyrite, pyrrhotite and pyrite. The pods are up to 30 meters long and 6 meters wide. The smaller pods host sphalerite and galena mineralization and the larger pods vary mineralogically along length. Galena, quartz and calcite dominate the northwest changing to pyrrhotite, chalcopyrite and pyrite in the centre and border areas (Minfile 104M 031).
NI 43-101 Disclosure
Nicholas Rodway, P.Geo, is a Director of the company, shareholder and qualified person as defined by National Instrument 43-101.