Why Copper & Silver?
The world needs responsibly mined metals like copper and silver to help transition to a cleaner, low carbon future.
Long-term copper demand supported by green energy. Metals are at the heart of the new commodity super cycle, and green demand is at the heart of the metals price rally.
Secular shift from production based on chemical energy (oil and gas), to one based on a range of sustainable sources.
Acceleration in green electrification trends set to drive strongest decade in copper demand growth post-2000.
Market sentiment remains extremely bullish on long-term copper prices.
Copper Price Projections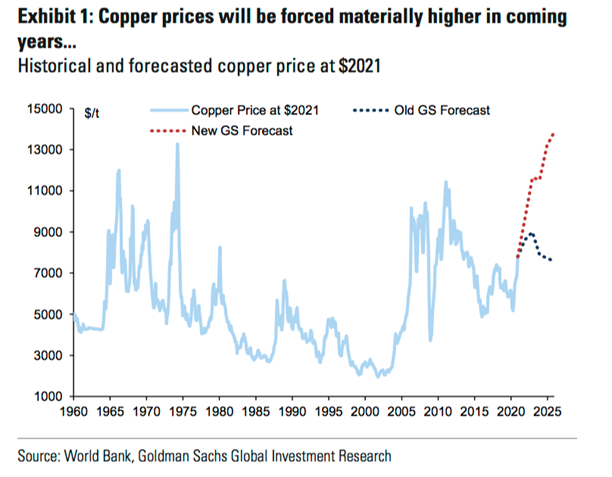 Source: (Goldman Sachs Global Investment Research, April 2021)
Green revolution will be highly positive for silver. Battery electric vehicles contain up to twice as much silver as ICE-powered vehicles, with autonomous vehicles requiring even more due to their complexity.
Increased solar panel development will continue to drive an already robust segment of the silver market, which consumes approximately 100 million ounces a year.
President Biden's expansion plan for 5G technology within the US will be a strong demand driver of silver.
Silver Global Demand Forecast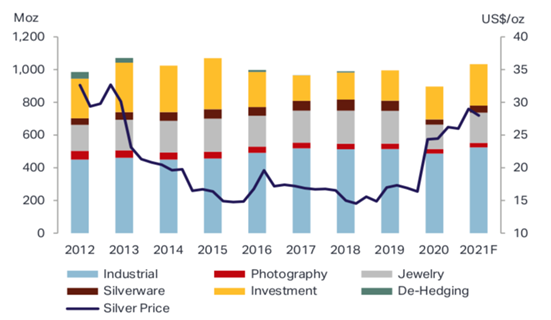 Source: (The Silver Institute, 2021)
Blue Property
Commanding 1,083 km² district scale land position in British Columbia's prolific Atlin Mining District. Located 48 km southwest of Atlin, British Columbia (15-minute helicopter flight, accessible all season). Atlin & Tagish Lake provide cost effective exploration mobilization and potential low cost ore transportation. All mining services available in Atlin including accommodations, heavy equipment and transportation. All other services available by paved road in Whitehorse 170 km to the north.
2021 Discovery Overview
• 91 samples returned assay values from 0.20% to 9.92% Cu, with 10 samples returning >1.04% Cu
• 58 samples returned assay values from 110 g/t to 2,020 g/t Ag with 17 samples returning >417 g/t Ag
• 115 samples returned assay values from 1.04% to >30% Zn, with 41 of those samples returning >10.15% Zn
• 53 samples returned assay values from 1.01% to >20% Pb with 33 samples returning >5.59% Pb
• 9 samples returned assay values from 1.03 to 6.75 g/t Au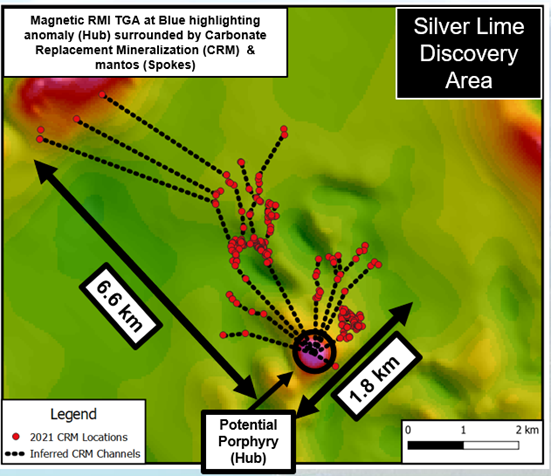 Newly Defined Grizzly Mantos
• Two sub-parallel Zn-Pb-Ag-Cu rich carbonate replacement manto zones were discovered and sampled over a strike length of >500m with widths up to 5m
• Assay values from 44 samples returned averages of 8.2% Zn, 1.8% Pb, 0.40% Cu and 110 g/t Ag over 500m
• Mineralization remains open in both directions along strike and at depth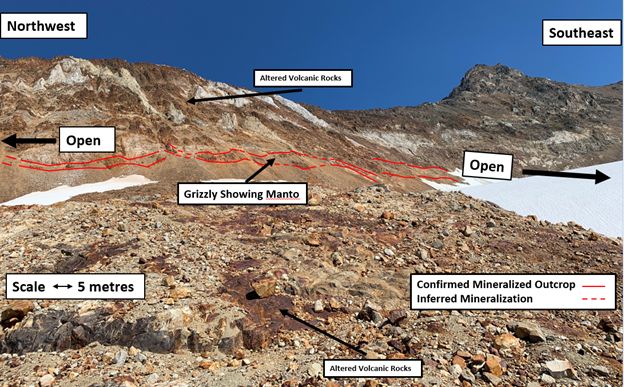 Classic Carbonate Replacement south of Grizzly Discovery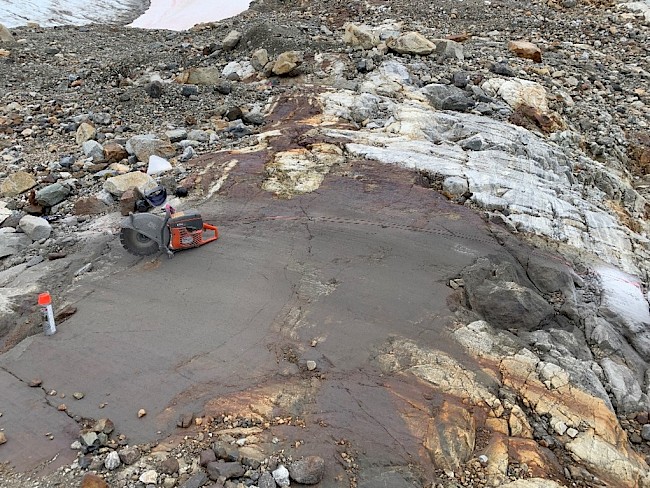 Regional Location of the Blue Property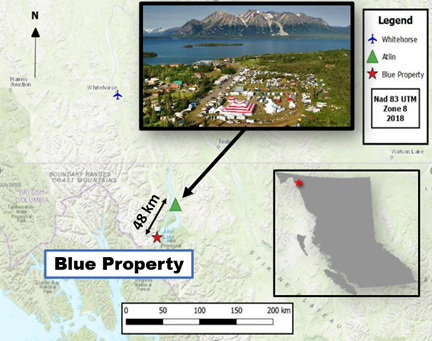 The project is located geologically in the Stikine Terrane which is host to some of British Columbia most significant projects.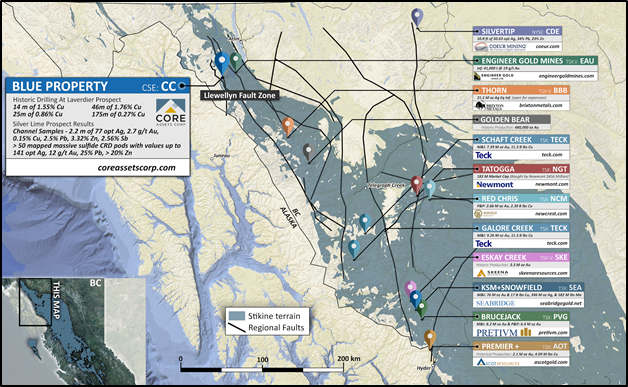 Carbonate replacement deposits are significant and can be closely related and proximal to large porphyry systems.
The following geological model has been responsible for discoveries such as:
Cinco de Mayo: Mag Silver
 $2 Billion Market Cap
Taylor Deposit: Arizona Mining
 South 32 bought for $1.8 Billion
Resolution Copper: RC Consortium
 Estimated to produce 40 Boz Lbs of Cu over 40 years
Peñasquito: Newmont Goldcorp
 Fifth largest silver mine in the world (17.8 Moz Au + 1,070 Moz Ag)
Blue Property Discovery Model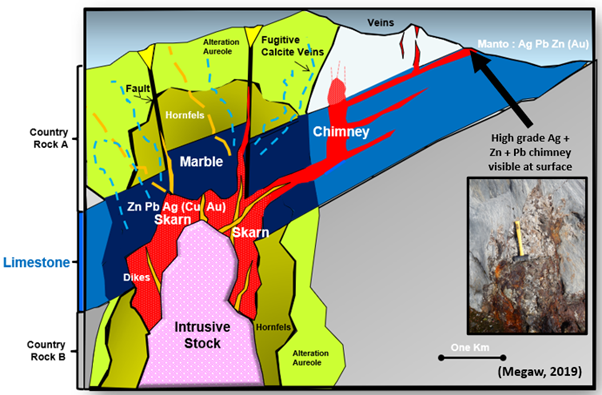 The Blue property also delivers preliminary results indicating that it follows on the "Hub & Spoke" Model similar to one of the largest CRD-Porphyry deposits in the world Bingham Canyon.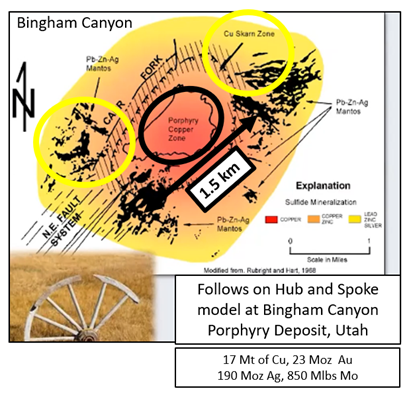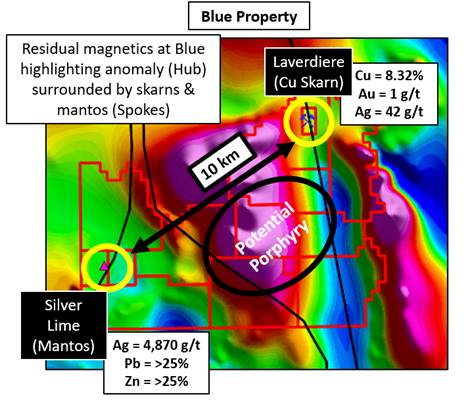 • Opportunity for a high grade district scale CRD Ag-Pb-Zn-Au & Cu-Mo porphyry discovery using a proven exploration deposit model
• VTEM airborne survey results expected winter 2021
• Cash in the bank with low overhead costs; tight share structure
• Young driven technical team backed by strong marketing and community relations
• Fully permitted for drilling