Commanding 260 km² district scale land position in British Columbia's prolific Atlin Mining District. Located 48 km southwest of Atlin, British Columbia (15-minute helicopter flight, accessible all season). Atlin & Tagish Lake provide cost effective exploration mobilization and potential low cost ore transportation. All mining services available in Atlin including accommodations, heavy equipment and transportation. All other services available by paved road in Whitehorse 170 km to the north.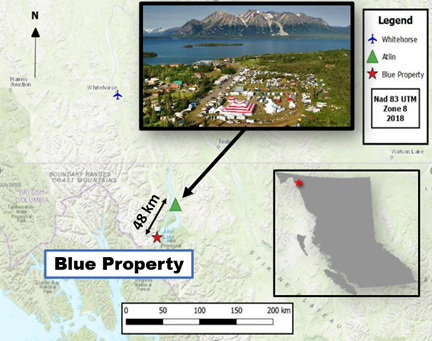 Regional Location of the Blue Property
The project is located geologically in the Stikine Terrane which is host to some of British Columbia most significant projects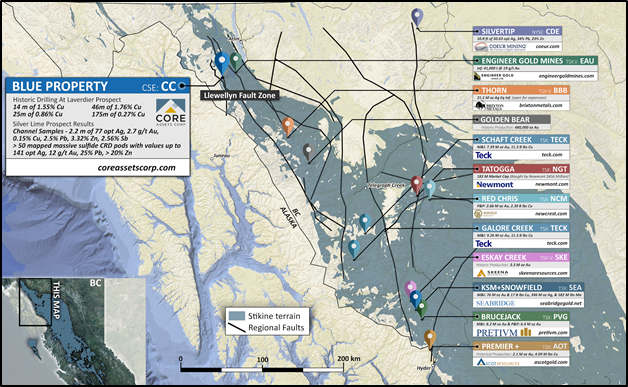 Carbonate replacement deposits are significant and can be closely related and proximal to large porphyry systems.
The following model is a geological model that has been responsible for discoveries such as:
Cinco de Mayo: Mag Silver
❖ $2 Billion Market Cap
Taylor Deposit: Arizona Mining
❖ South 32 bought for $1.8 Billion
Resolution Copper: RC Consortium
❖ Estimated to produce 40 Boz Lbs of Cu over 40 years
Peñasquito: Newmont Goldcorp
❖ Fifth largest silver mine in the world (17.8 Moz Au + 1,070 Moz Ag)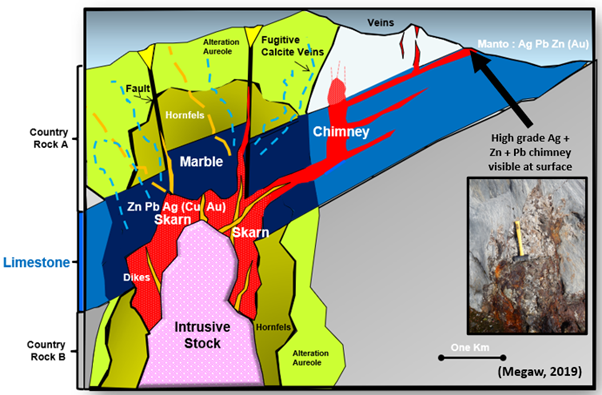 Blue Property Potential Discovery Model
The Blue property also delivers preliminary results indicating that it could follow on the "Hub & Spoke" Model similar to one of the largest CRD-Porphyry deposits in the world, Bingham Canyon.
The Blue Property

• Opportunity for a high grade district scale CRD Ag-Pb-Zn-Au & Cu porphyry discovery using a new proven exploration deposit model

• VTEM airborne survey currently being flown to better define targets

• Cash in the bank with low overhead costs; tight share structure

• Highly experienced technical team backed by strong marketing and community relations

---