The company's primary focus is the early-stage Blue Property, situated approximately 58 km southwest of the community of Atlin in northern British Columbia's renowned Golden Triangle, globally recognized as a world-class destination for precious and base metals.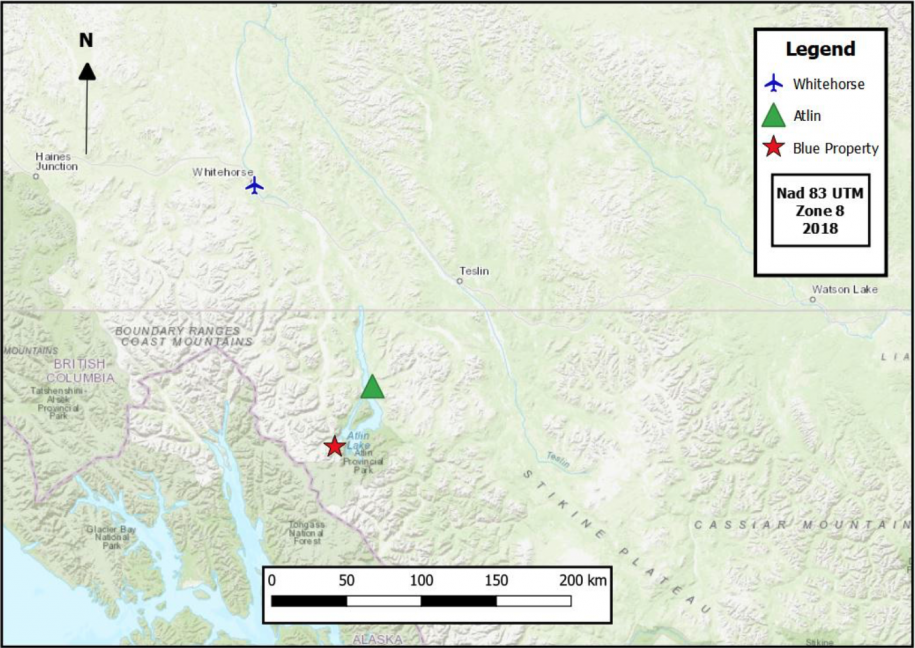 The property straddles the Hoboe Creek valley adjoining Willison Bay at the southwestern end of Atlin Lake's Torres Channel, providing access via boat during summer months or snowmobile in winter. Float or ski planes can access the north end of the Blue Property year‐round from Willison Bay. Helicopter support also provides year‐round access to the Blue Property.
Mineral exploration activities on the Blue property began in the late 19th century and continued into the 20th century. Exploration began in 1899 by three brothers Frank, Tom, and Noel Laverdiere who during the first two decades of the 20th century dug four adits on the property aligned with Hoboe Creek, namely the 'North', 'French', 'South' and 'Laverdiere' adits.
Exploration on the Blue property resumed in the modern era following the end of the Second World War. A variety of companies, including Cominco and Noranda, conducted a variety of reconnaissance, sampling and drill programs, culminating in Pacific Sentinel Gold Corporation's brief reconnaissance and sampling program in 1989.
Most notably, in 1973 core from a single diamond drill hole assayed by Rio Plata Silver Mines Ltd. returned 173.2 meters of 0.27% Cu from surface, 1.60% Cu from 173.2-179.2 meters and 1.40% Cu from 186.2–194.0 meters.
In September 2018 Zimtu Capital Corp. undertook a reconnaissance program of the Blue Property. A total of 28 rock samples were collected, from outcrop, and the historic 'French' and 'North' adits.
Zimtu's 2018 exploration program confirmed the copper, silver, and gold mineralization potential of the Blue Property. Zimtu's program returned results of up to 1.56 g/ton Au, 43.3 g/t Ag, and 8.46% Cu in the French adit area; samples from the 'North' adit area assayed up to 1.57 g/ton Au, 46.5 g/ton Ag, and 1.86% Cu.
In September 2020 Core Assets announced the company had increased the land area of the Blue Property from 1,657.66 Ha (16.58 Km²) to 14,814.86 Ha (148.15 km²).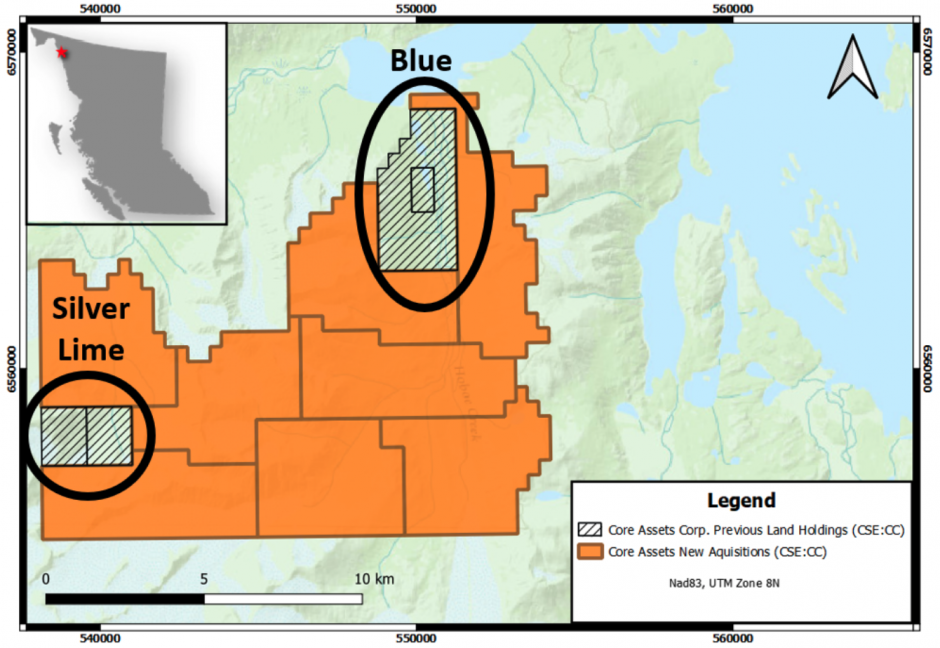 Core Assets now holds 100% (15 km) of the glacially retreated portion of the Llewelyn Fault Zone, running from the northernmost extent of the existing Llewelyn Glacier, north to Atlin Lake. The Llewelyn Fault is a regional thrust fault that runs directly through the property and thought to be the main transport corridor for the mobilization and concentration of high-grade metals seen at surface on the property.
---
Click here to read the Technical Report (NI 43-101) on the Blue Property prepared by Dahrouge Geological Consulting Inc.